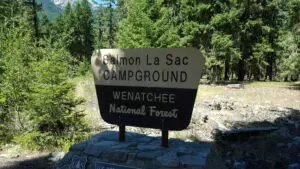 I was always intrigued by the Salmon La Sac exit off Interstate 90. Partly because it's such a quirky name. But partly because, every time we drove by it on a family road trip, my mom used to say with nostalgia, "Oh, we used to go camping there."
Why did this comment never intrigue me enough to ask questions? Why did I never say in disbelief, "Camping? You went camping? Seriously?"
I don't think we ever went camping even once when I was a child. I vaguely remember visiting some cousins once when they were camping … and then I think we went to a motel. My mom never struck me as a "roughing it" sort of person. Neither of my parents did. So the fact that they camped at all should have sparked some interest.
Why did I never ask, "Why? What was so special about Salmon La Sac? Did you go there often?"
Last weekend, for the first time in my 54 years, I went to Salmon La Sac. It is a beautiful area, but no more beautiful than many other parts of the Cascade Mountains. Did my parents go there often, so my mom's nostalgia came from familiarity? Did they go there with close friends and that made it meaningful? Did something special happen there? Was I conceived there? What?
Why did I never ask, "Who did you go camping with?"
My mom died seven years ago. My dad, nearly 40 years ago. I don't even know who I could ask now about why this was a special memory for my mom.
My hike at Salmon La Sac last weekend made me think of all the questions I should have asked my parents, but never did. Or those I asked too late in life when my mother would brush off every question (especially the ones about how she and my dad dated, broke up, and then ended up married) with, "That was so long ago. I don't remember."
What are all the things about my parents' lives that I should have found out more about, and now it's too late?
Maybe the Salmon La Sac story wasn't all that important. But maybe it would have revealed something about their life pre-Carolyn that would have helped me understand them better.
What else have I missed? Why didn't I ask more questions sooner?
Don't wait to ask the questions. Don't regret the things you never asked.