By birth and upbringing, I am American. My ethnic heritage is German. But music speaks to the soul, and my soul is Eastern European.
Maybe it was all those years my ancestors spent in Ukraine, Poland, Moldova, Hungary. It's certainly not the music I heard in my childhood (which was an eclectic mix of my mother's country music with high school orchestra classical music with typical American teen rock 'n roll). But from the first time I heard klezmer, I was drawn in.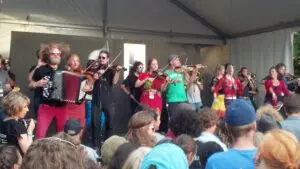 It's not easy to find Eastern European music in Seattle, so I've been stalking the group Lemon Bucket Orkestra on Facebook for a couple of years now. Ever since I saw a YouTube clip of them spontaneously performing for the passengers of a delayed flight stuck sitting on a runway, I knew this "Balkan/klezmer/gypsy/party/punk" group was a mixture of crazy and good music that I had to see. I kept hoping the Toronto-based group might make its way west … and last weekend, they arrived for the outdoor Vancouver Folk Festival. Just a couple hours' drive for me, it was much simpler than the time I went to Krakow for klezmer music. (Yes, I do mean in Poland.)
To say I enjoyed their music is too pale and tame. The music of Eastern Europe is the music of everyday life in remote rural villages—from the exuberant sounds that celebrate love, birth, joy to the plaintive voices of grief and despair. LBO's music swirls around you, envelops and enters you until you're dancing with abandon. People around me were tossing chairs off to the side to make more room as a chain of dancers spontaneously wove their way through the crowd.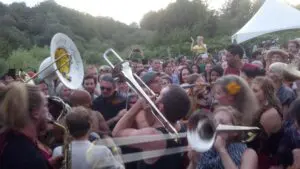 When their allotted time on stage was up, the musicians simply jumped into the crowd and kept playing, until their leader shouted out, "Let's all parade to the beach!" We followed them, Eastern European Pied Pipers, into the sand where they climbed onto logs and lifeguard chairs and kept playing as we kept dancing, barefoot in the sand, waving our arms and clapping our hands.
But Eastern European music also reflects loss and mourning. The musicians put down their instruments and sang a beautiful memorial song acapella, a song from western Ukraine that had been sung at funerals for the "Heaven's Hundred," who had died standing up for Ukraine's freedom; a song in memory of the lives lost that very week when a civilian airliner was shot down by Russian-backed terrorists in Ukraine.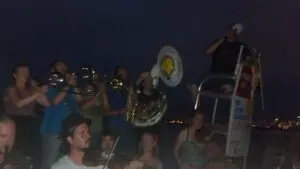 A final song was a Hasidic spiritual. We joined hands and threw our arms around each other, strangers no more as we'd spent the last hour dancing side by side. A crowd of a couple thousand people hummed and swayed and were united in the music—celebrating life, remembering grief.
As the song ended, we slowly broke apart, sorry for the evening to end. A person near me said, "Do we really have to go back to real life now?" But he didn't understand. We were experiencing real life right in that moment. The joy. The sorrow. The music.