Castles, cathedrals, Oktoberfest, cruising the Rhine River—these are the things most people go to Germany to experience. But my itinerary was one you wouldn't find in a tour book: the local museum in a small town, the village church and cemetery, and the small Kunst im Kuhstall (Art in the Cowstall) art gallery. I was visiting Ober-Gleen, the home of my Schott ancestors in the 1600s.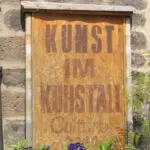 Although Ober-Gleen and Kirtorf (the neighboring town that is now the central administration for 7 villages, including Ober-Gleen) lie on the Deutsch Märchenstraße (German Fairytale Road) in the Vogelsberg region (a popular area for outdoor activities), they won't be found in any guide book. Which is a shame, because they are charming examples of small town Germany.
Touring Ober-Gleen and Kirtorf
.
My host for the day was the owner of the art gallery, Herr Bloemers, a retiree from the hotel industry after managing 5-star hotels in numerous countries throughout his career (which made his English far better than my German). Although the gallery was quiet the day I was there, its popularity is evident since the exhibit space is already booked a year in advance and opening parties usually include guests from Frankfurt (about an hour's drive away).
I'll admit, I expected the Kirtorf museum would be a typical local museum—poorly lit with a dusty collection of 19th century furniture and other items from people's attics. Instead, behind its historic fachwerk exterior it was a completely renovated, bright space with well-explained displays and innovative audio-visuals.
One exhibit area explained the Schmeerofen, a process that produced wagon wheel lubricant from sticky tree pitch (who knew such a thing was possible?), which was important to the area's economy for many decades. Only a small number of places throughout Germany had the right type of trees to use for this process.
Another exhibit was devoted to Friedrich Ludwig Weidig, a pastor for a time in Ober-Gleen, but who was active in a Germany-wide movement in the 1830s that had the audacity to suggest that all the German principalities should become one nation (which finally occurred in 1871). He was arrested for his "radical" political beliefs and finally committed suicide while in prison.
Looking for Traces of My Ancestors
But what about my own family history? Well, when I went to the bank to exchange money, it was clear the Schott name no longer held any weight here. The first bank wouldn't exchange my dollars at all, saying something about my needing an account there. The tellers at the second bank laughingly suggested to Herr Bloemers that the problem might have been caution in taking dollars from a random (possibly suspicious) American showing up at their counter.
Of course, they also laughed when I asked for Euros. Though I spoke in German, I used the American pronunciation for Euros, which sounds like the German pronunciation for gyros, the Greek fast food. Hmm, maybe the first bank thought I was ordering lunch rather than exchanging currency?
Although I know my Schott ancestors lived in Ober-Gleen in the 1600s and early 1700s, there's little trace of them today. The cemetery of that time was next to the church and is now a parking lot. The current church wasn't built until 1735, when my ancestor Michael Schott had already left the village. But the baptismal font dates back to the 1500s, so it was probably used to baptize some of my Schott ancestors.
There are no Schott family members in the village today, although other names associated with my family (Mess, Fröhlich, Schleich, Jacobi, Stumpf) still exist there. I probably have some distant cousins in Ober-Gleen, descendents of Michael's sisters. But I don't have enough information to make the connection and neither do they. As Herr Bloemers explained to me, "They know their families have always lived here. Family history is just not so interesting to them."
A Day in Ober-Gleen
My day in Ober-Gleen was not a usual tourist day of jostling with crowds to take photos of big name sights.
But learning about the local history and seeing the museum…having the typical German afternoon coffee and cake in the April sunshine as classical music drifted from the gallery…eating dinner in the local Gastätte where the mayor greeted each person while he shared an after-work beer with those at the bar…seeing the memorial to the Jewish families who had lived here until WWII…watching the Gleenbach brook tumble along the edge of the village as a bicyclist coasted over one of its bridges…spending the night in the Kirtorf hotel with its historic restaurant, but thoroughly modern rooms (and eating some of the best spätzle I've tasted)…seeing the local fachwerk houses in their natural habitat (far more interesting than visiting the nearby open-air museum, even one as well-done as Hessen Park)…all these things created a special visit for me to this little village, off the tourist track.
(For more stories about visiting ancestral towns, check out my book, "Yes You! Yes Now! Visiting Your Ancestral Town.")