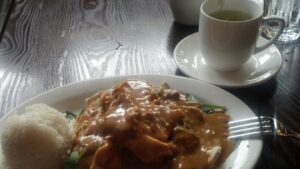 My goal in 2017 is to visit every eating/drinking establishment in my neighborhood of Fremont, Seattle, updating my 2014 reviews. Here are my reviews for the Thai restaurants I visited. See more reviews.
**** One of my faves!
*** On my regular "go to" list
** I'd go if a friend wanted to
* No thanks
*** (2017) Jai Thai  My year-round Thai favorite. Always good food and decent service. (Downtown Fremont)
(2014 review) For many years, this was my favorite Thai place in Fremont. And then I branched out and tried some others. Always acceptable.
*** (2017) Kaosami  I don't know that their food is any better than other Thai places, but it's my go-to Thai place in the summer. I am a sucker for an outdoor deck, what can I say? (Downtown Fremont)
(2014 review) This has become my first choice Thai place in the neighborhood. I don't know that their food is that much better than most of the other Thai places, but I love their outdoor seating area in the summer.
** (2017) Kwanjai Thai  The interior tries a little too hard to evoke a tropical jungle hut. And it was a little startling that they had to reach over my head to turn the outdoor lights on. But the server was friendly, service was quick, and the food was fine (a little bland, but I think that was my own ordering faux pas, not a cooking problem). Definitely worth eating here, though there is lots of competition for Thai food in Fremont. (Downtown Fremont)
(2014 review) With all the Thai restaurants in Fremont, this always looked the most hole-in-the-wall and so I left it till last. I should have remembered that these are often the best places. The asparagus/shrimp dish I had tasted very fresh, service was very pleasant, the décor small and quaint. When I ordered three stars, the server raised her eyebrows. I thought that was odd as I usually order that many stars, but three stars here is pretty spicy. But very good. I'll be back.
* (2017) Zapp Verr  This could be such a different review if they had acknowledged and apologized for their mistake. If, after we'd been waiting for our food for an hour, they'd said, "We're so sorry but we've lost your order. Can we bring you an appetizer on the house and we'll get that right out to you?" Instead, they tried to make it sound like some sort of mix-up. I thought maybe they'd given our food to another table, rather than completely losing our order. We left and went to Jai Thai across the street. Should have done that in the first place. (Downtown Fremont)
(2014 review) The food was okay and certainly came out fast. But the atmosphere feels a bit like a Thai place trying to be trendy nightclub lounge, which felt tacky to me. (Though for an opposing view, my friend thought it was improvement over the restaurant's previous "Tiki bar" atmosphere.) Attentive service is good, but interrupting our conversation four or five or six times to check in on how we liked the food is just plain annoying. I didn't shout, "Leave me alone and let me eat it," but I wanted to.
Older reviews
CLOSED (** in 2014) Chillies Paste Thai  It was fine, nothing remarkable. I like some of the other Thai places in the neighborhood better. But they were very friendly. (Leary Way)