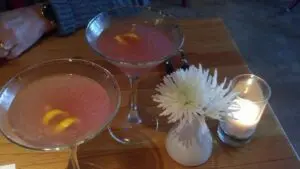 My goal in 2017 is to visit every eating/drinking establishment in my neighborhood of Fremont, Seattle, updating my 2014 reviews. Here are my reviews for the restaurants I visited that I put in the "nicer" category. See more reviews.
**** One of my faves!
*** On my regular "go to" list
** I'd go if a friend wanted to
* No thanks
**** (2017) Manolin  I liked Manolin from the first time I walked in. The menu is a good combination of standards and new items that rotate through, and everything I've had here has been over-the-top tasty. Casual, energetic atmosphere with the wood-fired oven giving it a homey feel. They're very welcoming and friendly, too. As it's close to my house, I often come here on my own and they always welcome me as a long-lost friend. Last time I said that it could earn 4 stars—and it has! (Stone Way)
(2014 review) Brand new place, it just
opened in December, so I had to work quick to eat there to meet my goal. Very friendly servers, luscious smell of the wood-fired oven hangs in the air, well-prepared food, and only a block from my house. Could earn 4 stars after a few more visits.
**** (2017) Thackeray A new fave. A welcoming, bustling atmosphere and friendly staff. (I had a great conversation with the bartender on my first visit about my hatred for Russia, and therefore, Russian vodka. He told me about growing up as an expat in Germany with side trips to Moscow because his dad had to go there for business.) And the food … I'm in heaven. Luscious lamb, unique meze dips with pita, roasted Brussels sprouts (an often-maligned vegetable). And who wouldn't want to try a wine described as "having swagger?" (Stone Way)
**** (2017) Rock Creek  I usually have some doubts about cauliflower (I mean really, they look like little brains on a plate). But I decided to risk it, and wow. A little farro, a little chili sauce—really, it was unbelievable. Oh yes, their fish is good, too. (An understatement as it's their specialty, but I was so wowed by the cauliflower that I've actually forgotten what fish item I had there the other night.) (Upper Fremont)
(2014 review) Seafood  Yum! Interesting menu, focused (obviously) on seafood. My faves are "Takeout" (served in a takeout container, but meant to be eaten there) and the beet salad. Great atmosphere and great food. I always seem to get pleasant and interesting servers. Nice outdoor firepit area for summer (or spring/fall) evenings.
**** (2017) Cantinetta  In some ways, witing reviews on places I like the most are the hardest. Cantinetta's menu is constantly changing with what's fresh, so everything's good. I love going there in good weather and sitting in the little patio area, facing a quiet neighborhood street. But sitting inside on a cold, rainy Seattle night is a cozy and memorable experience, too. (Extra credit, Wallingford)
(2014 review) I love that this place is in a neighborhood, totally outside of the main concentration of stores/restaurants. They have an interesting and yummy menu, always have great service and friendly servers, a cozy atmosphere indoors, a nice outdoor area for those summer nights, and tend to remember me over the summer (when I go there more often).
**** (2017)  Café Turko  They've been moving a bit in the last year, from the tiny, rug-choked space they were in to a really nice space now with a deck. It looks like another move is in store because their name is on a new building that is just being completed. The more space they have, the better. This place is awesome. As a carnivore, it's maybe strange that one of my favorite dishes is the "Ladies fingers delight" (aka okra). But their lamb dishes are also melt-in-your-mouth good. A specialty is Ali Nazik (which can be lamb, chicken, or vegetarian). If you try it, you can officially join the Ali Nazik Fan Club. (Downtown Fremont)
(2014 review) I love Mediterranean food, took a cooking class in Istanbul, and this place doesn't disappoint. Half restaurant and half Turkish rug store (well, they have other Turkish stuff, too) gives it a cozy, eclectic atmosphere and reminds me of the episode where I was dragged into a Turkish rug store in Istanbul's Grand Bazaar and plied with apple tea to persuade me to buy a carpet. (I held firm though…no easy way to pack it home.) The couple who runs Café Turko is really from Turkey and you're as likely to have an interesting discussion about Turkey as you are to quickly order your meal. It's generally become a lunch place for me, though, because they don't seem to have wine on the menu.
*** (2017) Swel  Has high potential to move to my "fave" list. Went there for dinner with a friend and the calamari, rigatoni, and chopped salad all got high marks from us. I went back the next night to try dessert. It was something yummy and chocolatey and the recommended wine went just right with it. Just as important as the food was the atmosphere. I love it when the host and servers are friendly and welcoming, even when you come in as a single diner. I'm guessing this will turn into a regular spot for me. (Downtown Fremont)
*** (2017) Agrodolce  I'm not sure why, but I seem to find my way here most often in the summer and sit in the sidewalk patio area, giving into my addiction for polenta fries and caramelized broccoli. I guess I just give in to addiction more easily in summer weather. I really do like this place a lot, despite that incident when I had to call them by phone (from their patio) to get my server's attention. (Couldn't get their attention through the front window and didn't want to leave my dinner sitting on the table where anyone walking by on the sidewalk could take it or spit on it.) (Downtown Fremont)
(2014 review) I struggled about whether to give this 2 stars or 3. I really like it, really like the food, really like the atmosphere, and it's an easy place to stop by so I ended up with 3. But honestly, if I'm hungry for Italian, I like Cantinetta a bit better and would be willing to go the extra distance to get there.
*** (2017) Eve  Lots of yummy menu choices from a good ol' solid bison burger to the more exotic spicy crab noodles. The place was pretty full and bustling, but they smilingly squeezed us in. I do think though, in their attempt to demonstrate their commitment to healthy choices, they sometimes veer on the side of bad marketing. I'm not sure that billing something as "nitrate-free bacon" really makes you salivate thinking about adding it to your burger (however important lack of nitrates are to your personal diet). And if they'd stuck with the menu's description of something as a "tasty sauce" (vague, but not off-putting), they would have been further ahead in my desire to order that dish than after our server described it as "nutritional yeast sauce." Blech. But if their lack is in description, not taste, so I will be back. (Downtown Fremont)
** (2017) Joule  I thought sitting at the chef's counter would be more exciting than it was, though I did get a peek into the food prep process. They were lovely and friendly, and I liked the food better than I did on my last visit. (Maybe I've just gotten used to the high prices and tiny portions?) I think it would be fun as a special occasion place, but I didn't like it well enough to spend that kind of money as a regular thing. (Stone Way)
(2014 review) I knew going in that they specialize in small plates, but when I ordered the steak and it was the size of a postage stamp (okay, I'm exaggerating, but only slightly), I wasn't impressed. I'm biased against "small plate, high price" types of places, and Joule didn't do anything to win me over. I know, I know, the Seattle culinary scene disagrees with me.
Not yet reviewed in 2017
*** (2014) Art of the Table I suppose this falls in the "small plate, high price" category that I'm biased against, but I loved this place. The restaurant is tiny (for at least a year, I walked by it thinking it was someone's quirky home rather than a restaurant). The staff was incredibly welcoming. Our group had the chef's tasting menu, which meant small plates, but there were a LOT of them. Best of all, when I mentioned that I lived nearby and had often wanted to come in but they seemed busy and full, they said, "Oh stop in, we'll figure something out. We like to take care of our neighbors." It wasn't cheap, but it was a wonderful experience. (Stone Way)
*** (2014) Westward  Another of the "small plate, high price" places, but you really can't beat their location so it's won me over. I've had good food there; I've had a pleasant happy hour sitting in an Adirondack chair, sipping wine, and looking at the view. A winning combo. (Extra credit, Wallingford)
*** (2014) Roux  I went here before I started taking notes so can't remember specifics. What I do remember is that the menu was interesting and the food I ordered (whatever it was) tasted great. It's on my list to get back there to try the beignets. (Upper Fremont)
*** (2014) Pomerol  It's in a bit of an obscure location between industrial/office buildings. The first time I saw Pomerol, I assumed that I'd just been missing it. Turns out, it had only opened a few weeks earlier. They had some creative cocktails and an interesting menu to choose from. I'd like to go back in summer and try out their cozy back patio. Server was charming and friendly, and overall there's a nice atmosphere. (Leary Way)
** (2014) The Whale Wins  Another place where my opinion differs from the Seattle culinary scene. Their food is well prepared and exquisitely presented. But it seems a little pretentious to me (salad of pea plant vines—doesn't that seem a little weird?).My biggest issue with The Whale Wins, however, is that the first time I went there, the service was terrible. Slow to give me a menu, slow to take my order, slow to deliver my food. It was especially irritating (as a woman dining solo) that it appeared that nearby tables with groups seemed to be getting menus, service, and food all quite a bit faster than I was. One wonders. (Stone Way)
** (2014) La Cochon  When I tried this place, the menu was odd. It was a pricey place that specialized (supposedly) in pork dishes, yet there was only one pork option on the menu. I'll admit that the chop we had was tasty and well-prepared (and huge—my friend and I shared it). But the rest of the menu was very heavy. With an enormous hunk of meat like that, I was hoping to offset it with some greenery—a salad or a green vegetable. Yet there was nothing like that available. The atmosphere was warm and cozy, the servers friendly. I wanted to like this place, yet didn't. But I've heard the menu has changed to more of a bistro style, and I really want to like it, so I'm willing to try it again. (Downtown Fremont)
CLOSED (**** in 2014) Brad's Swingside Café  I'm declaring this a favorite, but sadly, I've heard it's closing in January. It's small and quirky with a menu that has interesting preparations without coming across as pretentious. I love it and wish I'd found it earlier. (Upper Fremont)
CLOSED (*** in 2014) Tray  They serve dim sum-style (i.e. bringing around trays of small dishes that you get to choose from). But they're not dim sum-type dumpling dishes. We had a mouth-watering Brussel sprouts dish, tasty lamb chunks, and lots of other interesting concoctions. The biggest problem is that as the tempting dishes keep coming, and you keep saying, "Yes, please!" the bill can get a bit high. (Leary Way)