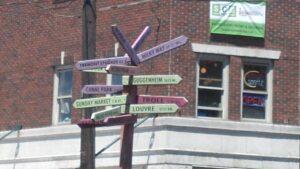 My goal in 2017 is to visit every eating/drinking establishment in my neighborhood of Fremont, Seattle, updating my reviews from 2014. Here are my reviews for the restaurants I visited that didn't fit neatly into any of my other categories. See more reviews.
**** One of my faves!
*** On my regular "go to" list
** I'd go if a friend wanted to
* No thanks
**** (2017) Sinbad  This was the first place that ever recognized me as a regular in Fremont, so it has a special place in my heart. And their gyros have a special place in my stomach. Every time I come in, I look at all the yummy things on the menu and think I should branch out and try something new. And then I give in. I try not to be a creature of habit, but their gyros are a good habit to have. (Downtown Fremont)
(2014 review) I always love a good gyro, and they have good gyros. What more needs to be said?
*** (2017) Pie  I realized today that whenever I come here, I order one of their unusual pies—curry vegetable or English meat pie. Today I went for a standard chicken pot pie, which I'd always avoided to avoid being boring. You know, there's something about tradition. It was just the right mixture of chicken and vegetables and crust. I guess there's a reason this is an old standby. (Downtown Fremont)
(2014 review) Yummy sweet and savory individual-serving pies. I grew up loving chicken pot pies, and Pie has these plus many more interesting options (chicken curry, beef, etc.). Their sweet pies are also wonderful, though calling these an "individual serving" may be a bit of an exaggeration (sugar overdose). But they also have a great lunch combo of savory pie, salad, and tiny dessert pie.
*** (2017) Stone Way Café  I was kind of noncommittal about this place last time. But they've added music now and I am embracing them more. A good selection of coffee/breakfast items in the a.m. and wine/beer and casual food in the p.m. Plus, many days a week, they have something musical happening, usually folk and indie singers, often local. I'm especially intrigued by their monthly Balkan music night. It was on hiatus when I discovered it for the summer, but I plan to become a regular … that's one of my favorite types of music that you can't find just anywhere. (Stone Way)
(2014 review) A limited menu (a couple of breakfast dishes, a couple of lunch dishes) and coffee/muffins. But what they do, they do well. My four-cheese grilled cheese sandwich was cheesy, gooey goodness. They have a nice, open but cozy-feeling space where they say they have music in the evenings (plus had some percussion pieces littered on the stage area to back up that claim). But I didn't see any flyers about when that music might actually happen.
This location has been through a number of different names since I've lived in Fremont so I guess I'm sort of waiting to see how long this one lasts.
*** (2017) Tsars  Eastern European dumpling goodness. When I first went in here, I had political qualms. (Pelmeni are Russian; Russia is an international exporter of terror and violence, especially in Ukraine.) So I started going in wearing my Ukraine shirt and have had nothing but pleasantness from them. Whew. So happy to be able to indulge in my dumpling comfort food so close to home and not feel like I'm supporting Russian hatred. (Downtown Fremont)
(2014 review) Well-prepared pelmeni are Eastern European goodness, and I was able to revel in them here. The main reason for 2 stars (meaning I'd go there on request, but it's not a regular stop for me) is political. Due to my support for Ukraine, I'm avoiding patronizing anything Russian unless I'm sure they're pro-Ukrainian Russians. Maybe I should walk in wearing my Ukraine sweatshirt to see their reaction. If they say, "Slava Ukraini!" I'd instantly increase the number of stars here.(I suppose it's odd to mix restaurant reviews with politics, but hey, these are my reviews and I feel rather strongly about the injustice of Russia's invasion of Ukraine.)
** (2017) Ha!  It's like walking into someone's living room. Which should sound cozy, but it's not. It's more like being an intruder and everyone is simply too polite to tell you to leave. Everyone there seemed to be regulars (except me), chatting about babies and boyfriends. I remember loving this place for the truffle fries and they were good. But overall, sort of a meh place. (Upper Fremont)
(2014 review) I've searched all over Fremont for truffle fries and found them here. Totally a comfort food menu with a flair. The night I was there, the tiny bar area had been taken over by Thursday night football enthusiasts and I felt like telling them to use their indoor voices (since it's really not a loud sports bar sort of place).The truffle fries give them an automatic 3 stars, though I'll admit I need to go back once or twice to truly decide if they'll be a regular place for me. But the menu is promising.
** (2017) Chinapie  I don't usually admire indecision, but it makes for an interesting menu. Chinese dumplings ("China") and several varieties for pizza ("Pie") are only the start. The ceviche (usually in Latino restaurants) caught my eye and was delicious. This is definitely the place to come when you're with people who can't agree on what type of food they want. Food was good, server was friendly, patio was lovely. Not sure how often I'll be back because the menu makes my head spin. But I guess if I'm in an indecisive mood, it's the place to be. (Downtown Fremont)
** (2017) Drunky's 2 Shoe  I like barbeque, but to really get an accurate assessment, one needs an expert. I brought in the big guns, a friend who grew up in the South (Alabama) who knows her barbeque like a Seattle-ite knows coffee. The verdict (from both of us) – the quirky atmosphere doesn't quite make up for the average-tasting food. Not bad, mind you. I'd go there again. But the luscious smoky smells that surround the building on the outside don't seem to make their way to the meat on the plate. A barbeque place could do better. (Leary Way)
** (2017) The Helm  It has all the makings of a great place—menu of Northwest-inspired apps, big outdoor deck, interesting cocktails. In a neighborhood with less food competition, it might do fine. If it was a bit more central in Fremont, that might help. My opinion – the apps and cocktails and deck aren't fabulous enough for people to make their way to that end of Fremont. (Downtown, sort of, Fremont)
** (2017) Roxy's Back Door  My 2014 visit was memorable mostly because I was sharing the bar with someone who organized goddess festivals as a hobby. My 2017 visit was less zany and more just good catch-up conversation with a couple of friends. The drink I had, the "Attitude Adjustment" packed a wallop. The menu had expanded (I remember a really lame menu – olives, almonds, and other minute items not worthy of the title "appetizer"). The fried pickles were disappointing, the other thing we had was cheesy and hearty. It was really bustling for a Thursday night, so people are obviously finding their way there despite its speakeasy-reminiscent hard-to-find entrance. (Downtown Fremont)
(2014 review) It sounded intriguing—craft cocktails, sort of a speakeasy atmosphere. But the menu consists of unimaginative appetizers and I've had as good or better cocktails everywhere else I've ever tried. It was an amusing evening since I met someone at the bar who planned goddess festivals as a freelance event planner. That was so bizarre, it made up for the lackluster food and drink. But since you all can't count on being that lucky in meeting random strangers there, I'd skip it.
* (2017) Qazis  I think I'm over this place. Although the food has never been more than average, in a sea of pub food and Thai food, I've welcomed having the option for Indian. But my first irritation was the time I came in and they wouldn't allow me to have a table on the deck—said they were all reserved. I went to the restaurant next door and sat on their deck and throughout my whole meal, no one came into Qazis to claim the supposedly reserved tables. Do they hate single diners or women or both?
That has dimmed my interest in going there, but I hadn't given up on it yet and went in recently. Table was sticky, food was just not good, and when the server constantly gives you the deer-in-the-headlights-who-me look every time you ask for something … well, I'm done. (Downtown Fremont)
(2014 review) My British neighbor (who has lots of experience with Indian food) turns his nose up at Qazis, but I like it. Maybe just because it's a welcome change in the neighborhood from all the pubs and Thai places, but I've always been very happy with their garlic naan and lamb vindaloo.
Not yet reviewed in 2017
*** (2014) Yellow Spot Café  Another great find. The atmosphere is casual to the point of making you feel like you should eat and leave (rather than sit, relax, and enjoy your meal). But they have some really good salads, which is a welcome change since so much of the Fremont cuisine seems to be pub food. (Downtown Fremont)
*** (2014) Roro's Barbeque  It's a tiny old house, sandwiched between a massive public storage warehouse and a new apartment building. When you walk inside, it looks like you've walked into your mom's (or grandma's) kitchen from the 50s. But wow – amazing pulled pork. (Stone Way)
CLOSED (* in 2014) Bones and Bourbon  If you want barbeque, go to Roro's, which is a much better all-around experience. When I walked into B&B, the smoked meat smell wafting out the door drew me in like a pied piper. But the slabs of meat sitting in the case at the front counter (as a sort of menu to help you pick what to eat?) did not look appetizing. My pulled pork was okay, but had a weird vinegary taste to it (and a friend from the South later confirmed that North Carolina barbeque tends to douse their meat in vinegar.) The side dishes were all really bad. The baked beans were tasteless, the "coleslaw" (if you can call it that) was limp. I was told the mac and cheese had won some sort of award, but I can't imagine from whom. Avoid. (Leary Way)