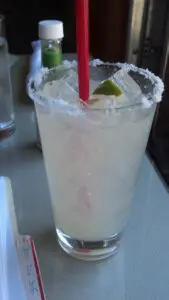 My goal is to visit all my local eateries (Fremont neighborhood of Seattle) at least once every couple years. (Of course, some of my faves hit the top of my list a lot more often!) The one exception, if I visit anywhere twice and don't like it either time, I don't make myself go back.  Here are my reviews for the Mexican restaurants I visited. See more reviews.
**** One of my faves!
*** On my regular "go to" list
** I'd go if a friend wanted to
* No thanks
**** (2017) El Camino  Always high on my list. El Camino was site of my Fremont home buying decision making (I wanted to eat dinner in the 'hood to see if I could picture myself living there. I could. And I do.) Their margaritas are the standard by which I measure all other margaritas (and other Mexican restaurants rarely measure up). I love that they have a menu filled with Mexican food that is not all about cheesy enchiladas AND that carnitas is a standard. (Downtown Fremont)
(2014 review) When the house margarita mix is better than fresh lime juice, you know they have a winning margarita. Their menu is also creative (i.e., everything is not smothered in cheese) and a bit healthier than most Mexican food … and they have my favorite carnitas (not on every Mexican restaurant menu). On a warm day, their back deck is a breezy place. On a cold day, the same deck is closed in and cozy.
**** (2017) Pescado Bueno  Maybe it's the difference between going there on a winter weeknight (in 2014) and going there on a sunny spring Saturday on Cinco de Mayo plus one (i.e., May 6th), but I really enjoyed Pescado. Last time, I thought they had OK food, but wasn't wowed. This time I loved their food, the margarita, and the atmosphere. While El Camino remains my favorite local Mexican place, if you're looking for more traditional menu choices, this is a great place to hang out on the patio or around the fire pit table. (Upper Fremont)
(2014 review) Quasi-fast food (order at the counter and they deliver to your table), but you can get a margarita (a must with any Mexican food) and the food is really pretty good. Great outdoor seating area.
*** (2017) Flair Taco Truck  2 stars vs. 3? What to do? If I often ate my lunch sitting on a curb, this would definitely be one of my regular places, so I went for 3. It's a food truck after all; I can't expect linen tablecloths. And their food is great. The carnitas tacos are melt-in-your-mouth good, served with a lime wedge. I opted for a side of guac. Mmmm…. (Downtown Fremont)
(2014 review) Fun little food truck in a regular spot in a Fremont parking lot. Their carnitas taco was good (my main criteria for judging Mexican food). I probably would have given it 3 stars except that there really is no place to eat except sitting on a curb. With so many other Mexican options, it's unlikely I'll get to this one much. But the food was good.
** (2017) Red Star  Well, I didn't hate this place as much as I did in 2014, so that's a plus. Perhaps sitting at the bar made a difference as it didn't seem quite as unfriendly as last time. The food was fair, but nothing special. The margaritas were fair, but nothing special. Much better Mexican places in the 'hood, so I feel like why bother with this place? But it was bustling, so I guess others don't agree with me. (Downtown Fremont)
(2014 review) The food was okay (basic tacos), but something about the atmosphere didn't seem welcoming to me. It felt more like a bar that just happened to sell a little food than a place one would go to with the plan of eating. If you want Mexican, go to El Camino or Pescado Bueno. If you want a bar, go here (or any of the hundreds of other bars in Fremont).
** (2018) Super Bueno  Their bar stools would be perfect for an 8 year old. Of course, most bars don't allow 8-year-olds. Really – these were absolutely the most uncomfortable chairs I've ever been on. The bartender tried to turn that into an asset, "Well, that's just what a bar needs." She gets points for positive attitude, but not for business acumen. As a local Fremonster, I could see myself hanging out here to order more food and/or tasty beverage. But not when I'm fighting gravity to stay seated. I pointed out to her that they'd lost any more sales from me tonight (or ever). Not sure she got it. Margarita was good, the carnitas tacos were good. But staying seated is too much work. (Stone Way)
History section:
CLOSED (** in 2017) Rancho Bravo Taco  A hole in the wall place can be a good thing. But I confess that I was planning on skipping this one because I never saw anyone there. But then I told myself "Buck up and don't skip out on your FremontEateryWalkabout." Surprise! When one goes there for lunch on a week day, there are a ton of people. It's really a take-out place as seating is very limited. And if I'm going to get Mexican food to go, I think the Flair taco truck is a better bet. (Their carnitas literally melted in my mouth.) (Downtown Fremont)
CLOSED (* in 2014) Tacos Guaymas  Meh. Food wasn't bad, but it was completely unmemorable. Lots of better Mexican options in the neighborhood. (Leary Way)