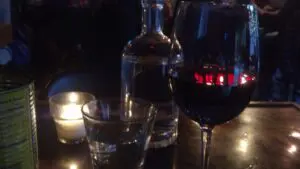 My goal in 2017 is to visit every eating/drinking establishment in my neighborhood of Fremont, Seattle, updating my 2014 reviews. Here are my reviews for the gastropubs I visited. See more reviews.
**** One of my faves!
*** On my regular "go to" list
** I'd go if a friend wanted to
* No thanks
**** (2017) Brouwers  My fave place in Fremont. I guess I should finish out my eatery walkabout this year to see if any other restaurant can knock Brouwer's out of first place, but I find it unlikely. Their food is unfailingly good. The atmosphere cozy, yet energetic. Overwhelming amazing selection of beers (which I can't truly appreciate as I mostly like beer on a hot day after a hike), acceptable selection of wine, friendly servers. Great patio in the summer. Just writing this makes me salivate, thinking about the steak frites. (Downtown Fremont)
(2014 review) Almost gave this one 5 stars because it's #1 on my list. The menu isn't huge, but it's got a good variety, and it seems to be the only place in the neighborhood I can get good steak. (The steak frites, yum, and a choice of dipping sauces for the frites.) Mussels, lamb burger, I've never been disappointed. If you're a beer drinker, I can't even guess at how many beers they have available. For a wine drinker like me, their list is short, but there's always some really good options and I've never been disappointed.
It's cozy, it's friendly. When I hadn't been in for awhile (because I was trying all the other restaurants on this list), they immediately recognized both me and that I usually drank the Malbec. A winner.
*** (2017) Russells  I love this place. The menu isn't that extensive and I find myself having the same couple things over and over. But they make a mean Lemon Drop, tasty meatballs, and it's a bustling fun atmosphere. (Stone Way)
(2014 review) I didn't have high hopes for this place and was pleasantly surprised. It's small, crowded, and the menu isn't extensive. But I had an amazing beet salad and meatballs. I thought they were supposed to be small plates, but couldn't finish everything and had to take some of the meatballs home. Service was a little slow (one gal seemed to be in charge of everything), but she was pleasant and the food was great. I'll be back.
*** (2017) Pacific Inn Pub  Basically pub grub, but good pub grub, cooked and served by friendly staff. This is another place that I tend to go to more in the summer as I love their outdoor deck more than the indoor ambiance. But always a good choice. (Stone Way)
(2014 review) Another place I didn't have high hopes for. It's close to my house, but always looked a little divey. I went there on a sunny summer day when I was working at home, had a fabulous salad sitting on the outside deck as I read about Ethiopia (for work), and it was really a pretty pleasant place. The menu was not all burgers and fish & chips, which was a pleasant surprise. Convenient, reasonable, decent food.
*** (2017) The Red Door  A reliable pub and a menu with a wide selection. I like their outdoor patio more than being inside, so it tends to be a summertime place for me. (Downtown Fremont)
(2014 review) It's been in Fremont forever (though the location has changed) and is a classic. Great outdoor space in the summer. I only go there when I'm in the mood for standard pub food, but it's always a solid option.
*** (2017) Norms  You can go here without a dog, but it just doesn't seem right. I recruited a friend and her chug (Chihuahua/pug) as my lunch dates. Stella (chug) didn't seem too sure about this whole human idea of eating out. But she warmed up to the idea the more canine friends she discovered under neighboring tables. Oh yes, humans want to know about the food. Good menu of pub food, with some nice brunch selections on the weekend. (My friend's smoked salmon Benedict looked awesome, and my BLT with avocado was stacked so high it was hard to take a bite.) (Downtown Fremont)
(2014 review) Good pub-type food and a very fun atmosphere since they welcome people's canine friends. It always feels a little lonely to go there without a pup though.
** (2018) Bar Charlie  The beer cheese soup was fine. The no-name cab was fine. The grilled cheese that I was so in love with last time wasn't on the menu (grilled cheese yes, dash of wasabi no). It was a hopping place on a Tuesday (trivia night). I wouldn't rule it out because it's close to my home, but nothing there to really draw me in.
(2017 review) It's not every day that you can sip a fancy cocktail while eating a grilled cheese sandwich. Of course, with a touch of wasabi and multiple types of cheeses, this is not your everyday grilled cheese—comfort food taken up a notch. The place is cozy and the cocktail I had from their specialty menu was fine, but the Lemon Drop (usually a favorite of mine) was not something I'd order again … lacked pizazz. There are a few more things from their menu that I'd like to try, but I think I'll stick to the wine and beer. Near my house, but not sure yet if I could make this a regular hangout spot. (Stone Way)
Not yet reviewed in 2017
*** (2014) The Traveler  If the Traveler was a little closer to me, it would become more of a regular haunt. Low-key little pub with some interesting menu items, I could hang out here a lot. I was in on a sports night, and people were watching the game, but it wasn't a loud, noisy sports crowd. (Leary Way)
*** (2014) Hale's is an interesting place that I seem to go to for all sorts of different reasons. Their food is good, their beer is good. The atmosphere in the pub and/or restaurant is always friendly and customer-focused. (When they had a mixup that delayed my order, they gave me a glass of wine on the house.)
But what really makes Hale's stand out are all the interesting events there. The monthly Kindlings Muse is an intelligent, lively, Christian-focused panel discussion of current topics … and is held in Hale's special events room. The annual Moisture Festival is a crazy variety show … and is held in a large adjoining event space called the Palladium. I've been to fundraising events and book launch parties and wedding rehearsal dinners there. More than just a pub with good food. It's really an interesting place. (Leary Way)
* (2014) 9 Million in Unmarked Bills  It wasn't inedible or anything, but given how many, much better pubs are available in Fremont, I wouldn't bother with this place.If you do decide to go there, at all costs, avoid the truffle fries as they're a huge disappointment. There may have been some truffle oil somewhere in the same room with those fries, but it never made it near enough to actually becoming one with the fries. (Downtown Fremont)
CLOSED (** in 2014) Hunger Bar & Grill  The old "Hunger 2.0" was fabulous. The more recent "Hunger Bar & Grill" was terrible, and I'm glad it closed. The server boasted about the quality of their meat, but the French Dip was wan and lifeless smothered under some cheese. I swear they rolled every French fry individually in salt.And the server was a complete idiot about the wines. (I realize not every pub server can be a sommelier, but some basic understanding of wine types would be helpful—or they should realize their lack of knowledge and ask someone for help.) The final straw was being called "Sweetie" by the server. I'm looking forward to whatever new is opening there. (Downtown Fremont)
CLOSED (** in 2014) The Sixgill  I lunched there with a friend and remember being pleased, but not wowed. (Downtown Fremont)