My goal in 2017 is to visit every eating/drinking establishment in my neighborhood of Fremont, Seattle, updating my 2014 reviews. Here are my reviews for the breakfast and dessert places I visited. (The beginning of the day and the end of the day–I thought there was some symmetry in that.) See more reviews.
**** One of my faves!
*** On my regular "go to" list
** I'd go if a friend wanted to
* No thanks
Breakfasts
*** (2017) Roxy's  They definitely have an East Coast deli sort of vibe—both the food and the sometimes abrupt service. But if you can get past that, the food is great. And they were very understanding of finding a table that had room for me and a couple of friends to stack our protest signs on a pre-activism-march breakfast. (Downtown Fremont)
(2014 review) Breakfasts to die for; great diner-type menu (the tuna melt is my favorite).
*** (2017) Dish  It doesn't disappoint. Though I don't come here as often as some of my other Fremont eateries (weekend lines discourage me), I'm always happy when I do. (Leary Way)
(2014 review) I'd heard of this place and seen the lines for breakfast. I finally ventured in on a weekday I had off from work (I hate lines). Great, traditional (big) breakfast—my omelet was wonderful. Their lunch menu looks like typical diner/American/comfort food. I obviously need to come back to try my favorite tuna melt … if I can find a time when there aren't long lines.
** (2017) Silence Heart Nest  It's a bit zen for me (meditation flyers with the bill, sitar music playing, photos of gurus on the wall). But if you're willing to forego bacon with breakfast, the food is good (huge chunks of avocado in my omelet) and the staff is friendly. (Downtown Fremont)
(2014) I am a self-confessed carnivore, so vegetarian/vegan places are not high on my list. But the avocado and something omelet I had was really fluffy and flavorful, and service was fast and pleasant. I am surprising myself by giving 3 stars to a breakfast place where I can't get bacon.
Desserts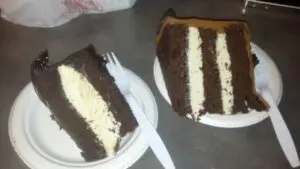 **** (2017) Simply Desserts  Cake, cake, cake. It's a happy place. I've never understood the cupcake craze, as cupcakes mean less cake and more (usually sugary) frosting. A cake slice is exactly the right balance. My only complaint (or perhaps, reason for rejoicing) is the generous size of their slices. If I eat the whole thing (which sadly, I can do all too easily), I feel guilt. (Downtown Fremont)
(2014 review) Can I give a place 5 stars? This may be the first place I ever ate at in Fremont, decades ago. And it still keeps turning out fresh, moist, delicious desserts. My faves: in winter, one of the chocolates (usually the truffle one, I think); in summer, the white chocolate strawberry; in fall, the pumpkin orange.
**** (2017) Bluebird Ice Cream  Love this place. Love Theo's chocolate chunk ice cream. They do have other flavors and they're good. But nothing in the world beats the rich, creaminess of the chocolate chunk. Even writing this is making me want to detour by there on my way home. Maybe I will. (Downtown Fremont)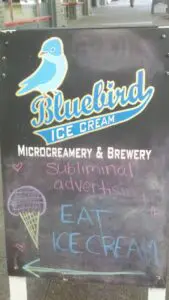 (2014 review) When I'm looking for ice cream, this is my spot. Quirky, old-time dairy store atmosphere (with the old-style cash register disguising a computer), creamy good ice cream. I think their chocolate is generally made with Theo's. How can this be resisted?
**** (2017) Theo's Chocolates  Strictly speaking, Theo's isn't an "eatery"—no chairs or tables. It's really a factory and a retail store. But who can resist the smell of roasting chocolate as it wafts through the neighborhood? Who can resist the tempting sampler bits available? Not me! I come here most often with visiting friends or because I want to buy a special "Made in Fremont" gift. But I confess, sometimes I just stop in to taste chocolate because I happen to be walking by. But lest you think I'm a freeloader, I always buy way more than I've sampled. So I think Theo's is coming out well by myvisits. (Downtown Fremont)
*** (2017) Midnight Cookies  This is a dangerous and addicting place. And closer to my home than almost any other Fremont eatery. While the peanut butter cookie doesn't pass my very strict standards (I'm pretty obsessive about my peanut butter cookie requirements), their "Cookies n Cream" cookie (which includes crushed Oreos) is to die for. (Just off Stone Way)
* (2017) Fainting Goat Gelato  This place is always crowded, and it expanded to Fremont from Wallingford. I confess, I don't get it. Their gelato has a sour aftertaste to me, I assume from the goat's milk. Just not my cup of tea. (Downtown Fremont)
Older reviews
CLOSED (** in 2014) Sirena Gelato  Excellent gelato, but in the frozen dessert category, I tend to like the creaminess of regular ice cream better. But I'd never say no to coming here. (Downtown Fremont)
CLOSED (** in 2014) Old Schoolhouse Frozen Custard  I did like it, but the nature of frozen custard is that it needs to be served "fresh" and so they don't make too many different flavors at once. It was good if you were in the mood for whatever they were in the mood to make that day. (Downtown Fremont)