My goal in 2017 is to visit every eating/drinking establishment in my neighborhood of Fremont, Seattle, updating my 2014 reviews. Here are my reviews for the Asian restaurants I visited. See more reviews.
**** One of my faves!
*** On my regular "go to" list
** I'd go if a friend wanted to
* No thanks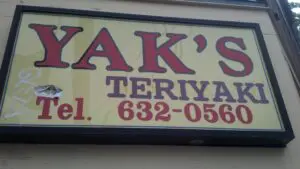 **** (2017) Yak's Teriyaki  It's such a hole-in-the-wall, with banged-up-looking tables and chairs, and the service is a bit abrupt. Not somewhere you really would go for a cozy meal. But I just love their teriyaki—tasty, generous portions. I just keep coming back over and over. (Downtown Fremont)
(2014 review) This place has been on the corner of 35th and Fremont as long as I can remember. And as long as I can remember, it's had a very uninspiring exterior. But yum—I had a spicy chicken teriyaki that was fabulous (and enough for two meals). And it's actually big enough to have a few tables inside (which means that you don't have to sit on a street corner to eat it—another mistaken impression of mine).
*** (2017) I Love Teriyaki  I am so sorry I was unenthused about this place last time. I dragged my feet getting there this year, but headed down one day when I was working from home, just to get my visit over with. The place was packed and my spicy chicken teriyaki was tasty and plentiful. They looked at me funny when I asked for a to-go box and then sat down there to eat. But their portions are generous. In fact, that made three meals for me. It's a gem. I'll be back! (34th Street)
(2014 review) It was okay. But if you want teriyaki in Fremont, go to Yak's.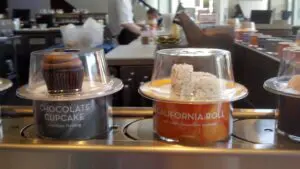 *** (2017) Blue C Sushi  I used to hate the lazy Susan conveyor belt. I really love now that I can pick a few different types of sushi and get a description of the ingredients. Blue C has been a great teacher in deciphering different types of sushi and what I like and don't like. (Downtown Fremont)
(2014 review) I'd avoided this place because the stark white decor, and the food whizzing by on a conveyor belt struck me as a sterile, Jetson-like, space-age dining experience. But I found that the sushi was surprisingly good. I actually liked the little label on each sushi that whizzed by that included the name and ingredients, making it easy to choose what I wanted. I'm still a bit discomforted to see chocolate cupcakes whiz by though, since they aren't a usual sushi-type side dish.
*** (2017) Chiso  I'm lucky to have two great sushi options so close to me. Nicer atmosphere than Blue C and nicer presentation. I've sat at the bar the last few times I've been there, and it's always sort of fun to see the sushi in process. (Downtown Fremont)
(2014 review) A bit more of an upscale dining atmosphere than Blue C Sushi, and more menu choices.
* (2017) Lucky's Pho  Since I'm not a big fan of pho, I went for the kogi tacos. Although I haven't been back since my 2014 visit here, I had fond memories of the Korean barbecue beef. But this time it left me underwhelmed. In taco format, the scraps of meat were lost in a sea of lettuce. I was looking for a slightly higher meat to garnish ratio. Maybe the pho is better as there were a respectable number of people lunching there for a Saturday. (Downtown Fremont)
(2014 review) Because of my lack of enthusiasm for pho, I was delighted that they also had alternatives. My Korean barbeque was pretty tasty, but my friend's vermicelli bowl was lukewarm. If I want pho, I'd rather go to Pho Tran Brothers. If I want any other type of Asian, there are lots of alternatives. But if I ever do start to have a craving for Korean barbeque (which hasn't happened in the last 50 years, but you never know), I would certainly come back here.
Not yet reviewed in 2017
*** (2014) Revel  I was a bit hesitant about their supposed Korean-based menu (I'm picky about my Asian foods), but as one friend said, "They have lots of luscious, barbequed meats—what's not to like?" The food was certainly Asian-influenced, but I didn't detect an over-abundance of kimchee. Instead, I had a teriyaki salmon salad and some yummy thing they did with pork belly. And there's always a smoky barbeque smell in the air that keeps drawing me in. (Downtown Fremont)
** (2014) Quoin  The bar for Revel. It was fine. I guess that's all I have to say about that one. (Downtown Fremont)
** (2014) Pho Tran Brothers  I'm not a big pho fan (it just seems like hard-to-eat noodle soup—I don't get the attraction). But as noodle soup goes, this is the best option around. And how can you not love the miniature French-style cream puff for dessert? (Downtown Fremont)
CLOSED (** in 2014) Fremont 1 AM  I've rarely seen anyone eating in this place and yet it stays open. This makes me wonder if it's actually being used for money laundering rather than being a real restaurant. However, they had a menu and the meal I had (though I've forgotten what I ate) was pretty tasty. It creeps me out to go someplace no one else seems to go, so it's not high on my list. But I would go back if I had to. (Downtown Fremont)
CLOSED (** in 2014) Udon Noodle  I'm not a big Udon noodle fan, but was pleasantly surprised to find they also have some Thai food on their menu. The Thai pork noodle dish I had was great. It's a takeaway place in a location I'm unlikely want to grab takeaway food, but I wouldn't hesitate to stop if I was hungry and driving by. (Stone Way)