Most of what I learned in school about slavery were dry facts about the Emancipation Proclamation or Underground Railroad. As I grew older, books and shows like "Gone With the Wind" and "Roots" put a more human (though probably misleading, at least in the case of GWTW) face on it. But the focus of all of these sources is the experience of slaves in America. So I've never known much about the slave trade from the African side.
I've never really thought about (except in an abstract sort of way) the homes and culture these people were torn away from and forced to leave behind. I've never really thought about how they were captured—maybe by a warring tribe or a local mercenary doing business with the white slave traders. I've never thought about how they waited in darkness and chains in their own land to be auctioned off to a slave trader—only to have to go through the same humiliation again when they reached the shores of America.
Gorée Island, Senegal
But now I've been to Africa. Funny what a difference that makes. I've met the descendants of the lucky ones who weren't captured. I've stood in the doorway that so many Africans walked through, their last time to stand on their own continent before walking out the door onto the gangplank to the ship where they were piled onto shelves and shipped across the ocean.
A trip to Gorée Island, a slave trading center in the 1700s just off the coast of West Africa, is a surreal experience. The ferry from Dakar docks at a charming village with brightly colored houses and restaurants on the beach serving freshly caught fish. The vibrant bougainvillea spills over the walls as we dodge the persistent vendors selling jewelry and fabrics and ornately carved wooden ornaments. Boys play soccer in the center of the village, just an ordinary Sunday afternoon. Until I realize the structure in the middle of the town square where the boys were playing was not a charming viewpoint, but instead the auction block where slaves were sold.
It's surreal to get your mind around the fact that this charming, colorful beach island was the center of the dark and penetrating evil that happens when one group of humans profits off the suffering of other human beings.
It's surreal to watch a couple of 20-something women pose for tourist photos on the staircase at the House of Slaves with a cute, sexy, over-the-shoulder smile.
It's surreal to know that, 200 years ago, young women just like them were forced up that staircase to be raped by white slavers. It's surreal to know that 200 years ago, being raped and impregnated was these young women's ticket to remaining in freedom on Gorée, rather than being thrown on a ship to America.
It's surreal to think about slave traders living and partying on the upper floor of the House of Slaves and apparently disregarding the groans and despair of the African people, imprisoned and chained in dark cells just below them.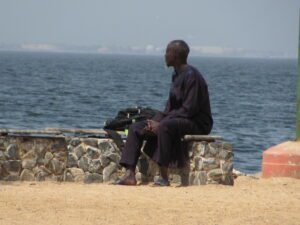 And despite my ever-present focus on family heritage, it never occurred to me that the majority of African Americans probably have their roots in West Africa (vs. any other part of Africa). It never occurred to me that certain groups of Africans were harder hit by this cancerous disregard for human life and dignity simply because of their misfortune in living closer to a continent across the sea with an appetite for enslaving other human beings.
There's a lot about slavery I never thought about until I stood on the shores of Africa.