In 2014, I set a goal of visiting every eating/drinking establishment in my neighborhood of Fremont, Seattle. Here are my reviews for the pubs and bars I visited. See more reviews.
**** One of my faves!
*** On my regular "go to" list
** I'd go if a friend wanted to
* No thanks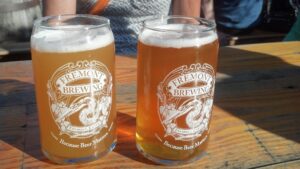 *** Fremont Brewing  Good beer and a great beer garden to hang out in on a warm summer day when a cold brew tastes good. They don't serve food, but do have munchies. Another plus—when they're brewing, the smell wafts up to my house. Mmmm…. (34th Street)
*** The Dock
2017 update: This has been a regular spot for me since I discovered it in 2014. My fave is the French dip, but when I went in last night for an updated review, the French dip was really not good. Lots of stringy, dry, unappetizing beef. It's been a favorite for so long, I'll go back at least once to make sure it wasn't a one-night fluke. But really disappointing.
2014: Another surprise place. It is totally a sports bar, which is not really my thing (there were about 10 TV screens broadcasting six different sporting events the night I was there). But they had a killer French dip sandwich (and I am VERY fussy about French dip sandwiches) that I would totally go back for. Service is so-so (fast to bring me food, then completely disappeared from view when I tried to get my bill and pay). But a good French dip sandwich gives any place 3 stars in my book.
*** Schilling Hard Cider  I wasn't quite sure what to expect here, but I loved their hard cider (probably more than beer, but not as much as wine). They have a LOT of varieties available (the rhubarb cider was killer). I can totally see hanging out here and sipping with good friends or a good book (or my laptop to sink into my writer persona). (Downtown Fremont)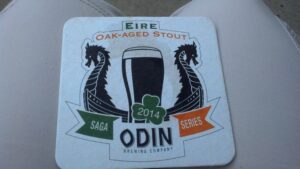 CLOSED*** Odin Brewing  I really liked the ale I had there, and it was a cute little place. I probably won't hang out there a lot, but if a friend said, "Let's go have a beer, where would you suggest?" it's a place that would come to mind. (Extra credit, 34th Street)
** Woodskys  As a skier, I loved the snow sports-themed interior and that the benches for the outside tables were made out of snowboards. But the massive margarita machine (that apparently mixes a powerfully alcoholic margarita) was a throwback to après ski in my 20s.I enjoyed the place on a sunny summer afternoon, but suspect it transforms into party city later in the evening (which I don't find as much fun these days as I might have in my 20s. Okay, I'll admit it, I wasn't even a huge partier in my 20s). (Downtown Fremont)
** The Barrel Thief  The most fun way to experience the Barrel Thief is by taking a wine or Scotch class. The owner and his teaching partner (darn, I've taken two classes from them and I should remember their names, but don't) are knowledgeable and entertaining. I can vouch for there being a large variety of good wine selections; I'll have to take someone else's opinion on the Scotch options.The food options are limited and only so-so, but at least they give you some sort of base for sipping on wine or Scotch. (Downtown Fremont)
** The Ballroom  I'd sort of dreaded going to this one as it exudes a trendy pickup joint atmosphere. But a friend and I went in and it was just sort of an average bar. (It probably helped that my friend and I went there on a Sunday afternoon, not exactly prime pickup time.) I don't feel compelled to go back, but I'm not so repulsed that I need to stay away. (Downtown Fremont)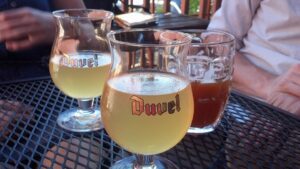 ** Outlander  Quaint house with lots of small rooms to work your way through to find the bar. They actually brew their own beer there, but I was more in the mood for a hard cider, which was really good (not brewed there, I don't think, but good). Probably a cozy place for a drink on a cold winter evening. (Downtown Fremont)
** High Dive  Not quite as dive-y inside as I'd expected, and the house red wine was pretty darn good. My friend and I chose a night (to meet my end-of-year goal) based more on the calendar than the band … a mistake. When the lead singer started taking his shirt off during the first song, my friend whispered to me, "Stage antics to hide his lack of talent." Still, if a decent band were playing, I'd go back. (Downtown Fremont)
** George and Dragon  Best option is to go there for a beer (which they do well). I don't know what to say about the food. I'd hoped to try their Yorkshire pudding, but they only serve it with their Sunday roast. (Which is not just a type of beef, but is a whole Sunday meal tradition in the U.K.) In the absence of the Yorkshire pudding, I tried the fish and chips, which were very much standard pub grub. Not bad, but not something I need to make a special trip for. (Leary Way)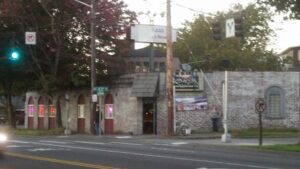 ** 4Bs  My goal was to visit every eating/drinking establishment in Fremont by the end of 2014, not necessarily in 2014. So I decided that it counted that, in my college days, we used to go here for lunch and play Pac Man.Today, it looks like such a rundown, seedy place (graffiti, plastic sign above the door broken so you can't read the name), I wasn't that interested in re-visiting. Funny thing, as soon as I told a friend of mine this, she told me that her fiancé loves this place. So I guess I'll be visiting in 2015. I'll let you know if I up my rating. (Leary Way)
CLOSED* The Dubliner  No doubt it's lively and interesting on St. Patrick's Day, but it felt like the kind of place I might have gone to in college. But emptier. Much, much emptier. (Downtown Fremont)
* Nectar Lounge  Although the one time I went there, it was actually fun (I was there with a friend, some of his friends, and he knew the headline band), but I can't think of much that would compel me to return.I knew we were in trouble when the lead singer of the starter band was taking his shirt off by the second song (obviously trying to hide his lack of talent) and then walked around shirtless the rest of the night. The drinks were so-so, smoke (both cigarette and pot) was obnoxious, and it was obviously the place for the 20-something crowd to see and be seen (based on the outfits people were wearing). One positive was the large outdoor area (so you didn't have to jam into the hot, sweaty interior with too many bodies on a hot summer night.But overall, I'll pass, thanks. (Downtown Fremont)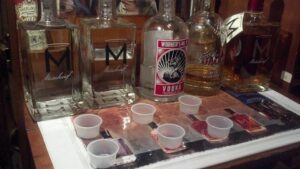 * Mischief Distillery  Quaint-looking tasting room with peeks into the main distilling area (and I think they give tours, too). But the vodka (my favorite spirit) was harsh-tasting. Give me Polish potato vodka any day. (Downtown Fremont)
* LTD  The corrugated metal exterior that makes it look like a temporary building thrown up in the oil fields of North Dakota should have been my first clue. The atmosphere reminds me of a place in the Midwest where men who work hard like to go to drink hard. Lots of fried stuff on the bar menu. (Downtown Fremont)
* Bad Jimmy's Brewery  Nothing bad to say, nothing great to say. The beer was fine, atmosphere was okay (though nothing to draw me back there). They apparently have movie nights. There are more interesting breweries in Fremont, but this one isn't terrible. (Leary Way)
CLOSED* Always Happy Hour  Have you ever been in an eating establishment that only has one printed menu for all customers to share? Neither had I until this place. Even though the pub was practically empty, the bartender paid no attention to me until I went to the bar myself. (Even if they don't offer table service, with only 4 people in the place, she might have called out from behind the bar across the 6 feet that separated us to ask, "What can I get you?" Surely that would have been more productive than staring aimlessly at the cash register, which is what she was doing.)When ordering, I was told "Oh, that will take a long time." (I suppose it's good she was managing my expectations, but I was ordering a panini, not a slow-roasted pig, so it didn't inspire confidence in the service.) The topper was that the curtain that hid their storage area was wide open, giving me the unappetizing view of shelves of cleaning supplies.

Yelp reviews praised their paninis. Meh. Mine was fine, but nothing I feel the need to ever eat again. (Downtown Fremont)