My goal in 2017 is to visit every eating/drinking establishment in my neighborhood of Fremont, Seattle, updating my 2014 reviews. Here are my reviews for the burger and pizza restaurants I visited. See more reviews.
**** One of my faves!
*** On my regular "go to" list
** I'd go if a friend wanted to
* No thanks
**** (2017) Pagliacci Pizza  Always my "go to" pizza place. Though I rarely go to it. Delivery is my friend. (Stone Way)
(2014 review) My fave pizza place for delivery. It's fast, it's really good pizza, and they have a standard pizza called "Extra pepperoni"—what's not to love?
*** (2017) Frelard Pizza  It became an in place very quickly, with its large outdoor seating area and firepit. I've heard some call it too trendy, but hey, the pizza's good and thin crust, New York style. That's enough to make me happy. (Leary Way)
*** (2017) Tutta Bella  Sometimes, you just want a pepperoni pizza. I actually liked the atmosphere here (bustling family-friendly restaurant with quieter bar area where I sat), the friendly wait staff (that was expert at the right amount of follow up; I was never left wanting for anything but they didn't stop by so often that it was annoying), and the refreshing summer drink (lemon/mint/fizzy). I appreciate their extensive menu (great selection of pizza and pasta) in a casual Italian-restaurant atmosphere that is missing in other places in Fremont. Salami was an acceptable, if slightly dull, substitute for pepperoni … but it just shouldn't be so hard to find amidst the Kalamata olives and broccoli rabe pizza. I tend to forget Tutta Bella is there (as it's closer to Wallingford, though technically within the boundary of Fremont), but it has enough pluses that I need to come here more often. (Stone Way)
(2014 review) Pizza was good, but the wine choices weren't all that exciting. Since I have other better pizza options closer to me, this place isn't high on my list.
** (2017) Big Marios Pizza  A big yum. If you're looking for a cozy, Italian restaurant atmosphere, this isn't the place. But if you're looking for is a slice of pizza (they had about eight or nine varieties by the slice when I was there, from traditional pepperoni to more innovative pear and gorgonzola), and a casual, sit-at-the-bar-and-have-a-beer vibe, this is your spot. (Note: They do have a few tables in addition to bar seating.) I'd probably give it 3 stars (a go-to spot) if the atmosphere was a little more inviting. (Leary Way)
* (2017) Alberona's  Uh, no. The speculations in my last review continue to stand—if no one is ever seen here, how do they stay in business and does it involve money laundering? (Okay, I guess I didn't write that last time, but I thought it.) But I'd had a tiring work day and my cupboards were bare, so I ordered a pizza from them online. Alas, they had a minimum charge that I had to meet, so I added an order of chicken strips, thinking they could be lunch the next day. The pizza wasn't terrible (though not a fave), but just ugh on the chicken strips. (Leary Way)
(2014 review) It always looks empty (though there are only about three tables in there so it shouldn't take much to fill up the place) and Yelp reviewers gave it very mixed/negative reviews. Since it seemed like more of a delivery place, I ordered pizza to be delivered. They were pretty prompt, the pizza was pretty good, and the crust was only the tiniest bit soggy from cooling off in the box on the way to my house (one of the biggest complaints on Yelp).It wasn't so great that it would even come close to bumping my favorite pizza places out as my favorites, but I'd be willing to try them again.
Not yet reviewed in 2017:
**** (2014) Via Tribunali  This may be a strange recommendation for a pizza restaurant, but this place always brings back fond memories of Germany and the authentic Italian pizza place that I went to with friends from my German language school.This is delectable, thin crust, served whole (i.e. not cut in slices) Italian pizza. There's nothing better than a good glass of wine, their salami pizza, and sitting at the counter/bar next to their open windows in the summer and watching life on Fremont Ave. (Upper Fremont)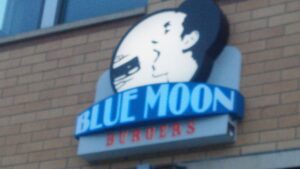 **** (2014) Blue Moon Burgers  My favorite burger place in the area. Hmm, maybe my favorite burger place overall! My fave is the blue cheese burger, but they have lots of interesting combinations on the menu and you can build your own. A big, fat, juicy burger…makes my mouth water to write this. They also have an outdoor area, which I love in summer. Beer, wine—it's not a fast food place. (Downtown Fremont)
*** (2014) U Needa Burger  They're just burgers, but really good burgers. I feel like I should branch out to other menu items, but I tend to keep falling back on the lamb burger and am always happy. Nice outdoor seating area, though the picnic table atmosphere is less inviting inside. (Upper Fremont)
CLOSED (* in 2014) Kylie's Pizza  I suppose my main problem with this place is that I'm a thin-crust-pizza sort of gal and this was Chicago-style deep dish. There was TOO MUCH bready crust. Really. Where's the sauce? Where's the cheese? And most important, where's the pepperoni? On a positive note, their cheaper red wine was a lot tastier than their more expensive red wine. I always like drinking wine and saving money. (Downtown Fremont)