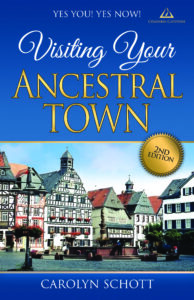 Visiting Your Ancestral Town
Have you ever wanted to walk in the footsteps of your ancestors?
"Visiting Your Ancestral Town" encourages you to follow your dreams, gaining a deeper understanding of your family roots as you experience the places where your family once lived.
The second edition has been expanded to include a comprehensive guide to researching your family history, including tips on locating that hard-to-find ancestral town. This is your essential guide to getting the most out of a trip to seek out your family roots.
Presentations
SGGEE Conference July 2018
BlackSeatoPoland-SGGEE Jul 2018
Black Sea records matrix_Jul2018
Black Sea Germans from Poland bibliography
Other Published Writing
Travel essays:
Genealogy and family history:
Other Blogs:
Editing
Many of my editing projects are for articles and documents that are not publicly available, but portfolio samples can be provided upon request. Contact me at carolyn[at]carolynschott.com.